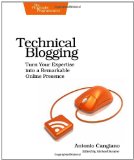 Like the book in my previous review, I bought "Technical Blogging: Turn Your Expertise into a Remarkable Online Presence", by Antonio Cangiano, during a winter, e-book sale. Unlike the book in my previous review, I enjoyed this one.
While I've been blogging for over a decade, its never been a professional thing — I tend to write posts that are mostly reminders to my future self. I've thought about taking blogging more seriously (and have started, and abandoned a few that didn't work out), but this book gave me new focus and motivation.
"Technical Blogging" is organized in five main sections: Planning (i.e., defining your topic and audience, setting goals, etc.); Building (which covers WordPress customizations and content strategies); Promoting (i.e., marketing and analytics); Benefiting from your blog (i.e., monetization and other perks); and finally, Scaling (i.e., increasing your reach, hiring writers, etc.) Through each section, Cangiano's style is to offer very specific steps for each topic, along with an open-book view of his blogs' traffic and revenue numbers. It's opinionated, and reads like a blogging consultant telling you want to do. That style doesn't always work for me, but in this case, I appreciated the frankness.
As a testament to his work, the book inspired me to finally start posting to a domain I've been sitting on for awhile, start3Dprinting.com. I'm optimistic that I can keep this one going.